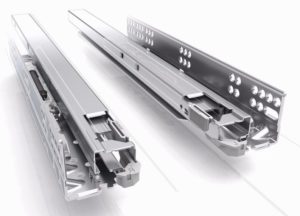 I've been a real estate agent for over 10 years. Over the course of those ten years, I've shown hundreds of buyers thousands of homes. Starter condos to enormous mansions.
The one thing that happens during every showing where buyers are remotely interested is they open and close the kitchen drawers. Do they want to make sure there aren't questionable items in these drawers? Make sure all the forks and spoons are in the right spots? Nope. They want to see if the house has soft close drawers.
I've never understood the soft close drawer. To me, it's an over complication of something that should be really straight forward, unbreakable, bulletproof… The drawer slide. The mechanism that lets the drawer slide open so you can get something, then slide closed when you're done.
Regardless of my thoughts, people are obsessed, captivated, and awestruck by the soft close drawer. Every time the home HAS these drawers, people are in love. Every time they don't have them, people are sad, disappointed, completely let down.
I've started asking people why these drawers matter. Their answers are awesome. First, let me say that 90-95% of people don't HAVE an answer. They just think they're cool. For the others, reasons range from a husband (always the husband) or child that slams the drawers all the time, to it avoiding fingers getting caught in the drawer, to they're more elegant (yep, elegant drawer closing).
Personally, I think it's because of the berzerking rage we all have inside of us that we can't let out at work, at play, or during the rest of our daily lives. This rage builds up and builds up and finally, when you can't take it any more, the cutlery drawer is there to save the day.
Regardless of the real reason we're mesmerized by these magical soft close drawers, I guarantee that they're here to stay, unnecessary as they are. It definitely makes me scratch my head at the things we're currently obsessed with when it comes to home finishes. It also makes me smile because I've finally been able to write an article containing the words "berzerking rage".
Stay tuned as I compose my thoughts on avocado toast…